Take some time, do it yourself
Give yourself a few hours (away from a screen), to travel along the colored lines of an embroided portrait, or a bouquet. Listening with only half an ear the radio, or a child, playing next to you…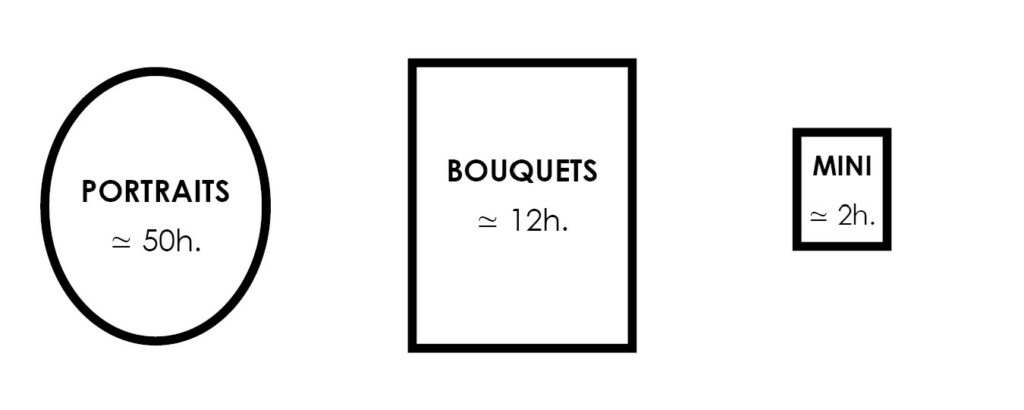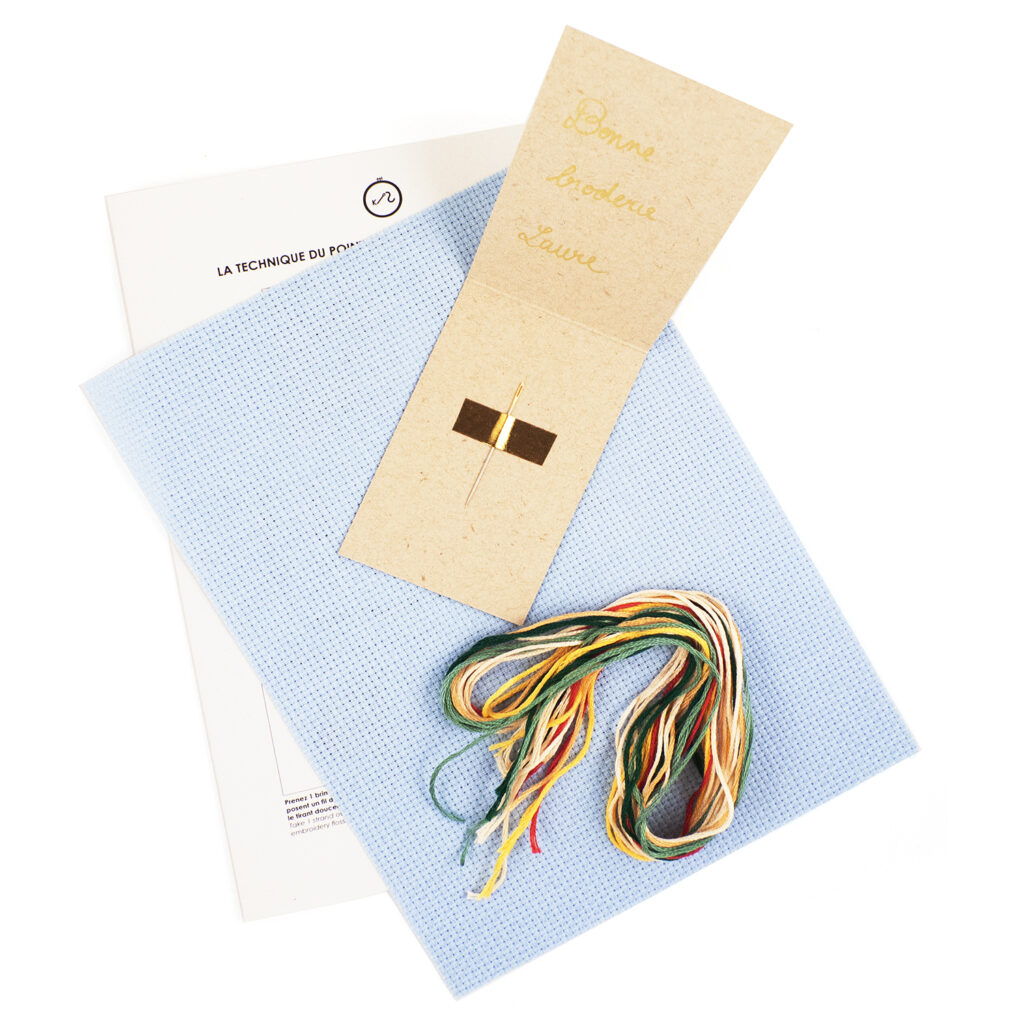 Do you want to embroider the portrait of one of your loved ones?
Go to this link to order your custom portrait kit.
Choose among the totem flower list the one that will accompany your portrait, OR tell me a flower that you would like me to develop especially for your portrait.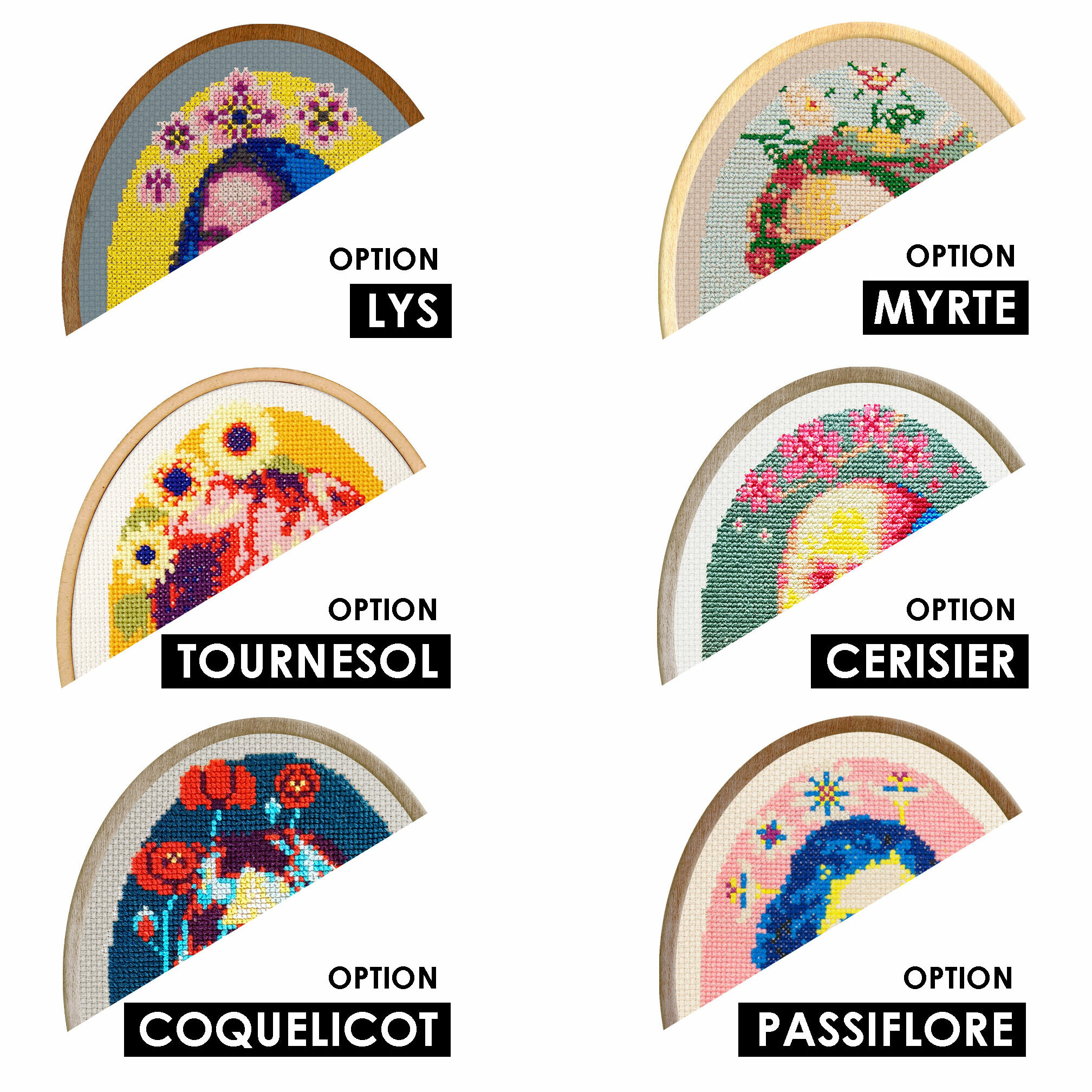 If you choose a flower from my list, I will use the color range associated with that flower. You can also tell me your shade preferences (up to 7 colors, including one very light and one very dark), or send me a photo of the shades you like for me to use as inspiration.
I accept up to two change round trips, no more! In the case of a flower creation, you can let me make a color proposal, or also send me your preferences.
Send me the photo of the person to be embroidered by e-mail indicating your order number.
If the photo was taken by someone else, you will need permission from the photographer to use it. If it's a photo of a celebrity, the photo must be copyright free.
The face should not be crossed by a ray of the sun, the best being a soft and uniform lighting. It doesn't need to be in color.
The head must be complete, hair included! We must see the beginning of the shoulders.
F.A.Q
How do I know if my photo is correct?
Send it to me by email before placing your order and I will tell you if it is suitable
Comment se présente un kit ? que contient-il ?
Chaque kit est présenté dans une enveloppe en kraft élégante avec fermeture japonaise. Le kit comprend : une aiguille à broder, les fils nécessaires à la broderie coupés en brin de 60cm (longueur idéale pour broder), la toile aïda, le diagramme en couleur, et une notice explicative pas à pas.
How is a kit presented? what does it contain?
Each kit is presented in an elegant kraft envelope with Japanese closure. The kit includes: an embroidery needle, the threads needed for the embroidery cut into 60cm strands (ideal length for embroidery), the aida fabric, the color diagram, and a step-by-step explanatory note.
Will my custom kit show up on your site and Etsy shop?
The portraits that are custom-made for clients are not displayed on my site, nor sold on my Etsy shop. On the other hand, I will be happy to receive a photo of your portrait once finished. If it is of good quality I will publish it, with your agreement, on my instagram feed. On the other hand, custom-made flower bouquet and mini flower kits are likely to be included in my catalog of kits.
What happens if the custom design does not suit me?
Before preparing the kit, I send you a embroidery simulation made by computer. I can go back and forth to change the colors if they don't suit you. If we can't find the right design, I will only reimburse you the amount corresponding to the kit, not the part that remunerates the time I will have spent on it. For a single portrait I will reimburse €35, for a collection (portrait + bouquet + mini flower) I will reimburse €57
Can I have an oval frame for my portrait like yours?
Yes, follow this link.
Do you ship worldwide?
Yes, you can consult the deadlines and prices on the Etsy shop
How do I take care of my embroidery?
I recommend that you do not place them in direct sunlight. The fabric may relax after a while, make sure you can dismantle your frame to be able to tighten it. If it is dirty, you can clean it by hand with a little detergent for wool.
For any other question, I invite you to fill out the form on the contact page.